I'm not great at eating breakfast…
That's because I swear by intermittent fasting. I truly see the benefits of holding off my first meal until lunchtime. That doesn't mean I don't like breaking my fast a little early sometimes. Even if I last the whole 16 hours, I have a weird obsession with breakfast foods. Whether it's eggs, french toast, bacon, cereal, oatmeal… you name it. I love it. The great thing about food is that you don't even need to label it and it can still be breakfast. You want to eat steak? That can be breakfast. You want to eat yogurt? That can be breakfast. You want to have a smoothie and a muffin? It can all be breakfast.
What is Breakfast, Exactly?
Breakfast is a me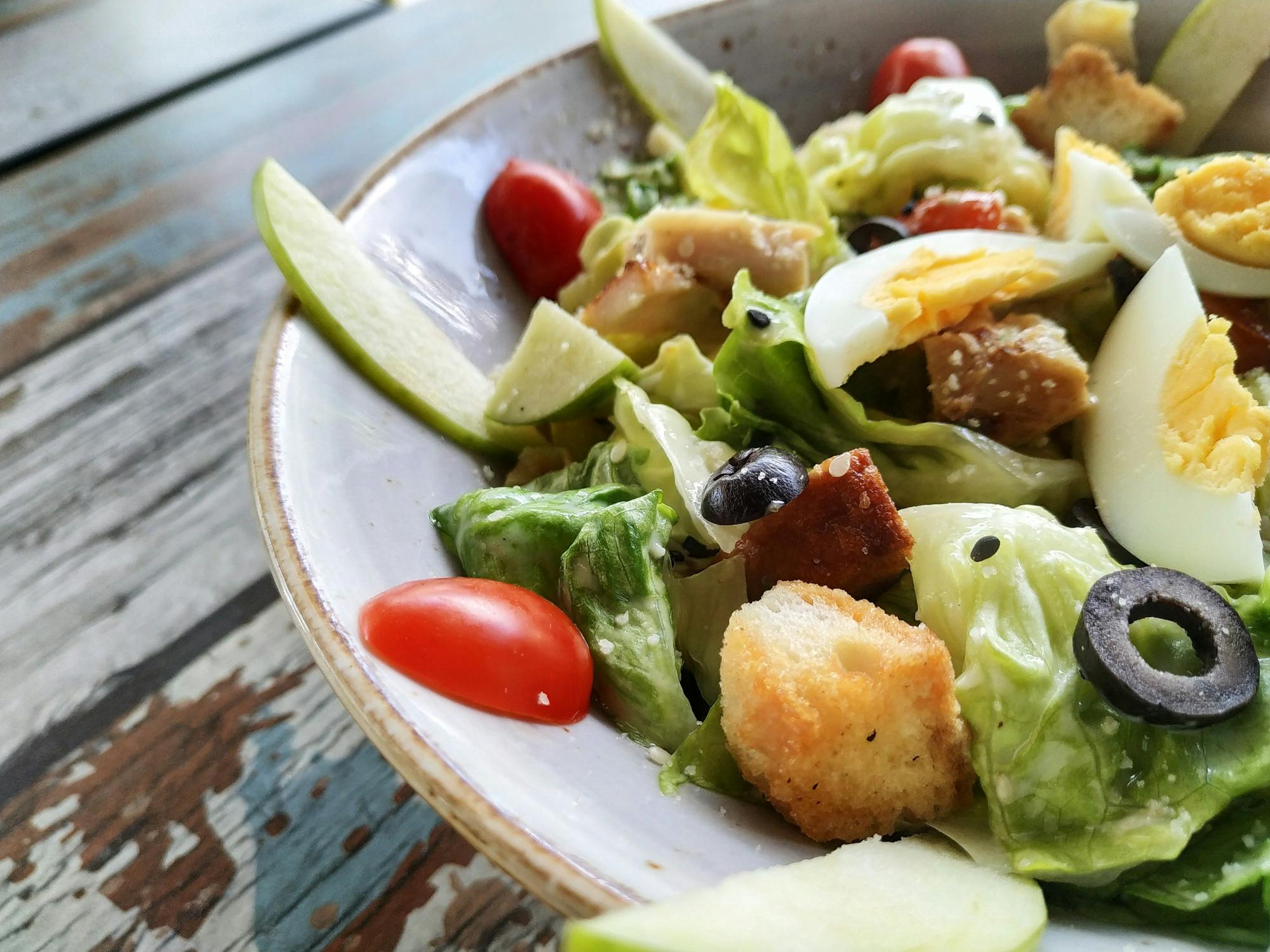 al eaten in the morning OR the first meal of the day. Technically, my salad at 1pm is my breakfast. I like to remind myself that the first meal I eat in a day is going to pave the way for the rest of my day. If I eat a salad or something that's light or easily digested, my body will go through fewer road bumps. If I decide to break my fast with a muffin or sugary juice, I may notice I start to crash a few hours later. Neither is wrong or bad; I just plan my day according to what I eat.
If I'm going to break my fast with a meal higher in sugar, I need to make sure my day isn't too hectic, I don't have as many meetings, and I can work on something that doesn't require much creativity. Who said breakfast food has to be the typical American Grand Slam, anyway? Amanda Mull from The Atlantic compares the ratio of protein:fat:carbs in a chicken-parm sandwich to that of an egg sandwich, and when we really break it down, as long as we're getting a good amount of all 3 of those, isn't that all that matters?
The History of Breakfast
We didn't always use to eat stacks of sugar-filled pancakes at 9am. This is something that came on slowly, specifically when colonial America developed into a more robust culture with class markers. Many countries outside of the United States eat similar meals for breakfast, lunch, and dinner. I personally like that way better! Since when is there a right or wrong food for breakfast?!
Depending on where you live in the world, your breakfast could even be a slice or two of bread with freshly pressed olive oil and olives, like they did in Ancient Greece or Rome. In England, the traditional hearty breakfast (fried eggs, sausages, back bacon, tomatoes, mushrooms, fried bread, and often a slice of white or black pudding) really started to take shape during the Tudor dynasty (16th century). This was largely due to economics and the increasing prevalence of wage employment. As more and more people came to spend long days working for someone else and dinner moved later in the evening, what we now think of as lunch moved from late morning to early afternoon. Breakfast then became known as a "proper meal".
That's enough history for now! Here are some of my favorite ways to start my day. Let me be clear, though, these can be enjoyed at any time of the day!
Breakfast #1:
Salad with hardboiled eggs and leftovers.
This is the salad I make with all my leftovers. This is a super easy meal because everything is already prepped. If you haven't guessed it, I can be really lazy with my meals sometimes, and this is easy and nutritious. I tend to always have fresh veggies in my fridge, especially some kind of salad green. I personally like kale, brussel sprout, and radicchio slaw. Usually, I have leftover roasted veggies in the fridge, such as cauliflower, broccoli, or potatoes. I also like to cut up some fresh peppers, shallots, and tomatoes to throw on top. Leftover bread that has hardened can be cubed and baked to make home-made croutons.
Breakfast #2:
Granola & Greek Yogurt.
I have a sweet tooth, but let's be honest: I feel awful if I start my day with sugar. I'm not going to lie. Going down, a breakfast laden with sugar and fats is so incredibly satisfying. Immediately after, though, I start to regret what I've ingested. I'm not hating on sugar-filled foods. I'm simply saying I can't break my fast with something sweet or overly processed. I mean, I can, but I basically lose all self-control for the rest of the day. I wanted to find a solution to this for days when I crave something sweet! What I came up with is this: Yogurt and granola.
It isn't unique or anything mind-blowing, but it provided the perfect amount of sweetness, in addition to protein and fat. I don't do well with gluten, so I decided to find a gluten-free alternative. I love using this Keto-friendly recipe by Wholesome Yum. It's low-carb, sugar-free, high in fats, and can be made Vegan as well (just substitute the butter for ghee!). Mix that into some yogurt with chia seeds, and it's like you're having dessert for breakfast (I admittedly eat this after dinner sometimes too as a treat)!
Breakfast #3:
Smoothies.
These are my go-to. Any time of the day. If I'm busy, these are the easiest way to get calories in my body without having to stop what I'm doing. I can't eat and work at the same time, no matter how hard I try. BUT – I can work and sip on a smoothie. Depending on how much time you have, you may just want to blend up your fruits and veggies and go. However, if you want to spruce it up a bit, you can make a smoothie bowl. Smoothie bowls are basically a smoothie with toppings like cut-up fruits, dark chocolate chips, unsweetened shredded coconut, mixed nuts, chia seeds, hemp hearts – basically any topping you think will complement your smoothie!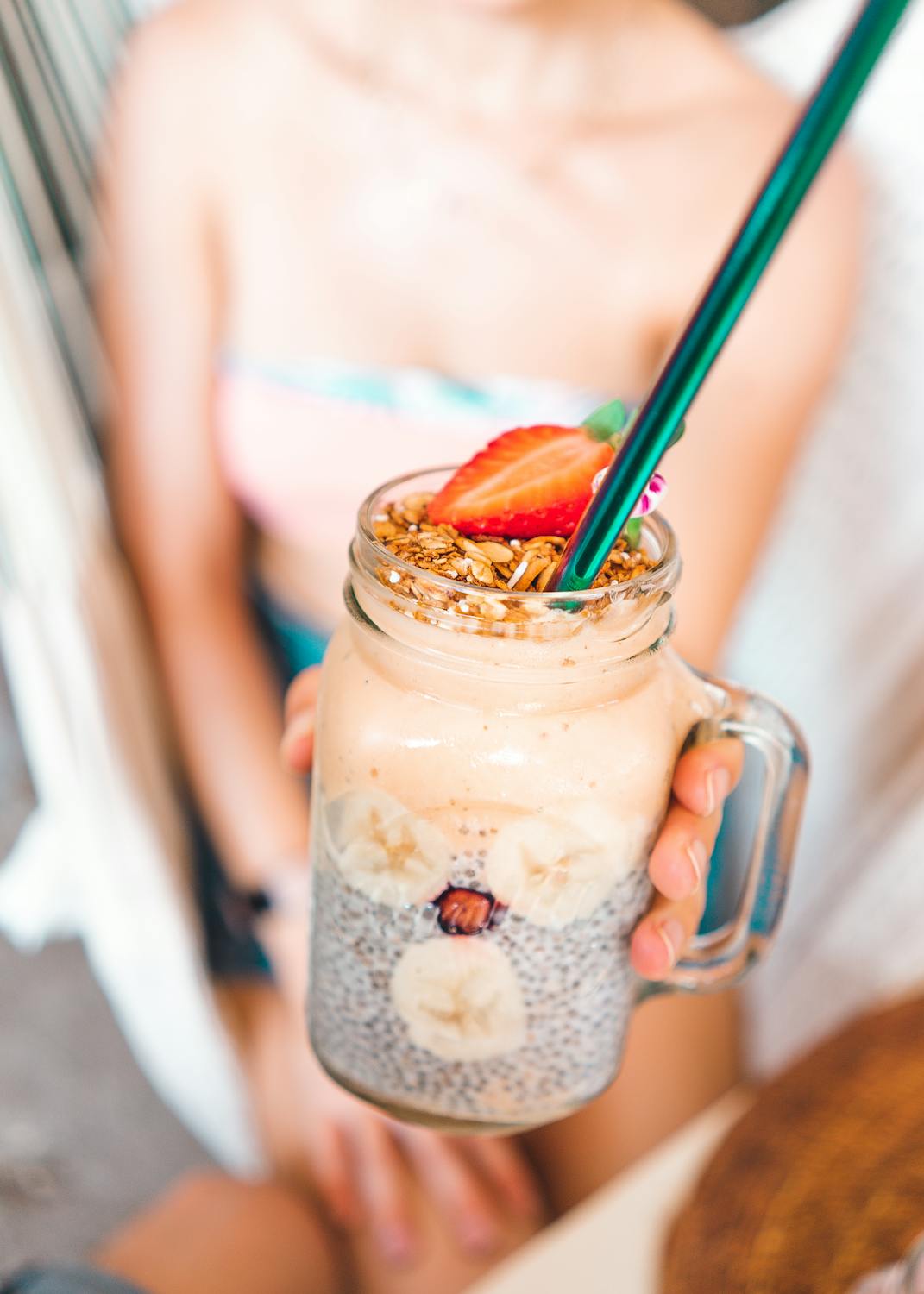 As well as being nutritious, smoothies are super easy to process as a fast-breaker! I like to have this before food because it is already "pre-chewed" so to speak. My body doesn't have to work as hard to masticate (chew) and break down the food, so my body can ease into processing my meals rather than eat something greasy first thing. Again, smoothies are super versatile and a great source of healthy carbs/protein/fat (all three necessary macronutrients!). If you're having trouble getting fats, try to add a quarter of an avocado, a tablespoon of coconut oil, or a tablespoon of nut butter. If you need more protein, throw in a scoop of protein powder or a few tablespoons of hulled hemp hearts. You'll likely have a hard time not getting enough carbs since both fruit and veggies contain plenty of healthy carbs.
Let me know what your go-to breakfast ideas are. Can a burger be a breakfast? Who says it can't?! Tell me your favorite way to start your day off right!
---
Resources:
---
Chelsea Pineiro
Chelsea has been active most of her life, which led her to become a Personal Trainer and Yoga Instructor for the past 7 years. Health and Fitness are not solely dependent on movement, though, and with that understanding, she addresses her client's other needs, such as diet, mindfulness, and stress management.
When she is not training clients, she is finding new activities that keep her mind and body active, such as rock climbing, hiking, listening to podcasts, or playing Board Games with friends. She is constantly working towards: Finding natural solutions to live as long as possible, inclusive Yoga for all body types, and aiming to find mindfulness is everything she does.